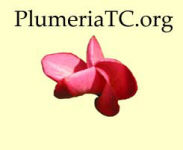 Click images for menus.
All rights reserved 2003 through 2018
A web-spinning mite: (2012)
Camellia japonica Camellia
Image 02-09-12
Apical growth which has been attacked by these mites. This is one of many upper canopy tips which exhibit signs that the mites are present.
Image 02-09-12
Some minor webbing filled with debris near to juicy necrotic spots. This reminds me of the juicy plumeria leaf image with the nymphs in slide 6 of the presentation from 2005.
Image 02-09-12
One of the apical sections which escaped their ravages somewhat, although the older growth shows an abundant amount of discoloration and spotting.
Image 02-09-12
Newer growth showing deformation while the older growth just shows minor spotting and discoloration.
Image 02-09-12
Leaf showing necrosis and some deformity, plus spots. Newer, tender growth is most susceptible to these mites, as is the case with plumeria.
Image 02-09-12
The camellia is bordered by a cut leaf philodendron and an azalea which shows very little mite damage, similar to the condition presented by the azalea next to the downy jasmine.