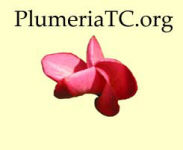 Click images for menus.
All rights reserved 2003 through 2018
A web-spinning mite: (2012)
Jasminum multiflorum Downy Jasmine
Image 01-12-12
This jasmine bush has been showing signs of these mites for years. Red discolored and deformed leaves. Purple spots, alongside some black necrotic tissues, and defoliation. Under closer inspection, and again because this year has been so warm and no significant amount of rain has been received so far this winter, it would appear that these mites have been very busy on this plant too. This should not be confused with star jasmine (Trachelospermum jasminoides) which also does show red discoloration where the vines are in proximity to roses (also hosts to these mites) which are suffering from black spot (Diplocarpon rosae) and that organism appears to cause red discoloration upon star jasmine but does not appear affect the morphology of the tissues, no funky leaves.
Image 01-12-12
Tip from center of stressed area of the bush.
Image 01-12-12
Leaf ready for microscopy.
Image 01-12-12
Mite corpse among debris.
Image 01-12-12
Necrotic areas with fine webbing adjacent.
Image 01-12-12
Exuvia of, more than likely, the Scolothrips sexmaculatus, commonly known as the sixspotted thrip. These were found on the underside of the leaf and are another very effective predator of these mites.
Image 01-12-12
This image presents a paradox. This is the sole azalea in the yard which does not appear to have any sign of the mites. There are other azaleas within 20' of this plant, both to the south and to the east of it, and they all have indications of mite infestation. Every other azalea in the yard, and I have propagated quite a few via adventitious rooting, has signs of mite infestation. This particular bush will be propagated out and test subjects of it will be monitored for mites. As the downy jasmine bush in the image most definitely has these mites, either this particular azalea is resistant to them or I really do not understand these mites at all.