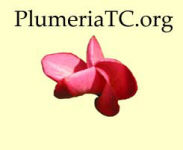 Click images for menus.
All rights reserved 2003 through 2018
A web-spinning mite: (2012)
Clytostoma callistegioides Violet Trumpet Vine
Image 01-30-12
This violet trumpet vine has resided underneath this blue oak since the previous owners of the property and has had little problem with these mites. However a section of vine did fall from a further height up the tree that had taken years for it to reach which was near to moss which is located on the north sides of these trees. The fallen section had some parts which out right died and others which were stressed, plus plenty of healthy vines which weren't quite so high too demonstrating the effects of these mites.
Image 01-30-12
Purple necrotic tissues.
Image 01-30-12
Stressed vine which was part of those that fell from further up. These don't readily climb and it was not securely attached or supported and with the heavy rains received recently, collapsed.
Image 01-30-12
Sample leaf.
Image 01-30-12
Mite remains.
Image 01-30-12
Fine webbing fairly free of debris.
Image 01-30-12
Fine webbing with debris.