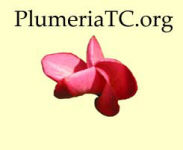 Click images for menus.
All rights reserved 2003 through 2018
A web-spinning mite: (2012)
Nerium oleander Oleander
Image 02-04-12
Various samples of damage pulled from oleander which was planted in 2007 as a hedge and buffer between the greenhouse, compost pile and the neighboring property. These messed up pods I first saw in 2006 on oleander in Davis contained within an arboretum. At the time I dismissed the damage as I had other things I was attending to, which I had been doing with various plants around the property too until recently.
Image 02-04-12
Tissues from an immature seed pod with anthocyanins being expressed. Various species of plants express these when under the influences of these mites.
Image 02-04-12
Fine webbing found at the necrotic tip of one of the deformed seed pods. It was rather loose, had a great deal of debris, and was waving around in the fairly still air of the lab which I was lucky to get a clear still image taken.
Image 02-04-12
Another example of fine webbing, again at the juncture between necrotic tissues at the deformed seed pod tip.
Image 02-04-12
And example of an early stage of deformity, and perhaps a pod which is going to escape too much damage except for some necrotic spots.
Image 02-04-12
More examples of seed pods under the influence of these mites.
Image 02-04-12
The tall bare tree is a blue oak, with greenhouse to the right, mandarin to the left and lemon upper right. The oleander is behind the mandarin and since 2007 has grown rather rapidly requiring multiple t-posts to help keep them erect. There are two different colors of oleander within the hedge, one with a pink bloom (with baby lotion scents), and the other being a red bloom which I haven't detected a scent from. Between the two of them they have been mixing their DNA and there are seedlings already three years on growing just uphill from them. Although the mandarin does demonstrate some fine webbing on deformed leaves, for the most part it appears to be immune to their effects.