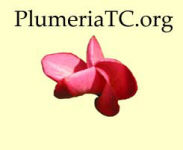 Click images for menus.
All rights reserved 2003 through 2018
A web-spinning mite: (2012)
Pittosporum tobira 'Variegatum' Variegated Japanese Mock Orange
Image 01-27-12
Husks and webbing.
Image 01-27-12
Although I do not know whether these are for certain sixspotted web-spinning spider mites, and as I do not know of any other mites that terrorize my yard, and the damage matches that which they do, these plants will be closely monitored and will not be initially treated so that any mites which may be present can be observed.
Image 01-27-12
The leaves which show necrosis also are more chlorotic than those leaves on shrubs which are not greatly affected. As with some other species that these mites pick upon, stunted growth is observed as well.
Image 01-27-12
The hedge of variegated Japanese mock orange has always demonstrated struggling plants which are directly lined up through a breezeway caused by the pavilion (not in image) and are approximately 10 feet away from a live oak (Quercus agrifolia - red arrow) that visibly has less foliage than other live oaks on the property. Leaves from that oak demonstrate necrotic spots. Additionally, there are blue oaks adjacent (to the left of the life oak) which also appear to host these mites.
Image 01-27-12
The above is a rose rootstock which continues to grow up and through the shrubs despite my best efforts to rid them from the area where the hedge mock orange is now, having removed various roses years ago as they performed rather poorly in the location. However, as other roses which are in the vicinity demonstrate black spot (Diplocarpon rosae) any necrotic spots on these could be from that and the red coloration of the leaf could be natural as young leaves do emerge as such. But, as it is directly within the area most affected by the mites in the hedge, odds are on the mites as the cause. All of the above species mentioned will be closely monitored so that more authoritative and tangible evidence of them can be obtained.