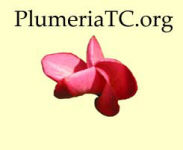 Click images for menus.
All rights reserved 2003 through 2018
A web-spinning mite: (2012)
Lonicera japonica Japanese Honeysuckle
Image 01-07-12
This is what happens to these vines when these mites are present. Although noted in prior years it, as with azalea too, were both ignored with respect to this purple coloration which I attributed to winter. This year has been very mild and these have been busy.
Image 01-07-12
Red stunted growth with berry in center (somewhat shriveled).
Image 01-08-12
Capitate trichome with web stringing towards and away from it (anchor point).
Image 01-08-12
Egg (appears to be still viable) nestled amongst the trichomes with some silk strands nearby.
Image 01-08-12
Another silk thread and trichomes plus debris.
Image 01-07-12
This shows the vine after it was "collared". The Plumeria x stenopetala clones were between three and five feet from this vine during the growing season of 2011. Although the little black ants did a great job of defending the clones, others snuck through and most definitely were there waiting to emerge after the predators were gone. This vine will be treated with insecticidal soap, on a schedule, until no further evidence of them is apparent. The azaleas which are nearby too will be receiving the same treatment and schedule.