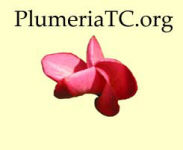 Click images for menus.
All rights reserved 2003 through 2018
A web-spinning mite: (2012)
Quercus douglasii Blue Oak
Image 06-20-04
Having spent the previous couple of years on the lower deck, away from many of the hosts of these mites, the plumerias were stationed on the upper deck underneath the blue oak for the summer of 2004.
Image 08-26-04
That's me and that is the blue oak where all this started. At that time it was fully leafed out and when it does it attracts more than just mites. Images will be posted, later in 2012, of the various "things" which take up residence on the leaves, every year. On the 29th of January of 2012 indications (necrotic spots) that these mites were in the tree were observed on late season growth which had leaves still attached to the tree. As the winter of 2011-2012 has been rather warm for this area, these mites have been very busy.
Image 08-27-04
Necrotic spots. These are the same ones imaged with abscising tissues, black tips, and the start of this journey that has taken 8 years and this is one of the very first "plumeria trap plants" that were used, even if unintentionally. See the mite pages under Pests & Predators from the menu above to check out all what has been learned so far.