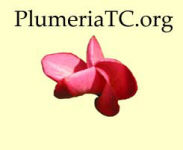 Click images for menus.
All rights reserved 2003 through 2018
Blooms of Plumeria rubra
Red Shell Offspring (Stem Rot Survivor)
(Updated 11-21-11)
Image 11-08-11
A comparison between the red shell offspring and Kauai 1/5 blooms.
Although mentioned below, further measurement showed 4 inches from petal to petal on this one.
Image 11-02-11
Various names are being tossed around in my head but Evaki should be included. Day and night different in bloom from parent or siblings.
Image 10-20-11
Image 10-20-11
The whole plant, showing the sole remaining branch.
Image 10-20-11
I cut the rotted branches off late spring 2011 but left a couple of inches.
The pathogenic organism which runs via the vascular system is halted by? A very good research question.
Image 10-19-11
Somewhat pinwheel in nature. This plant had three branches last year, two of which succumbed to stem rot this past winter.
An oddity on this. The peduncle only pushed one offshoot as a bloom cluster, with the remaining crown reverting to meristem tissue.
Image 10-19-11
From petal to petal it is approximately 3.5 inches.
In regards to this plant's heritage. It is a sibling red shell offspring, although most definitely not a shell. Sibling plants are red shell, two of which were cloned via TC. All the red shell siblings were germinated just after the turn of the century and although two others have bloomed, this is the first time this one has bloomed. Well worth the wait!