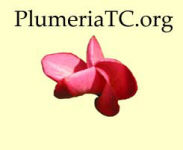 Click images for menus.
All rights reserved 2003 through 2018
Mites Dangling
Gathering at the tip.
One starting to suspend on a silk strand. I apologize for the quality but having to give the camera "glasses" and then close enough to see these guys and keep in focus, not very easy with current equipment.
The above two movies demonstrate the mite in action on a Plumeria leaf, during an active stage.