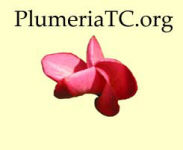 Click images for menus.
All rights reserved 2003 through 2018
Alternate Gelling Agents
Gellan gum/TC grade agar
If you are expecting really pretty tissue, well don't get your hopes up. If you are expecting node production, then do. This is at 15g/l sucrose level and 1.5 g/l tc grade agar/1.25g/l gellan gum. The rest of the mix is the same. Enjoy!
A contrast between two adult cultivars:
A very crowded vessel (one of four) 12 of 2009.
The cutting plate with contents from above vessel, same day and all this tissue (plus what's in the other vessels) is from the below, a single plantlet, acquired from an adult plant.
As the writing on the glass demonstrates, the tissue was set in February of 2006 and was not touched until September of 2008.
Here is the same tissue now growing upon the mix. The image was taken in early October of 2008.
Here is the same plantlet now with more than one shoot, approximately three weeks later in October of 2008.
#3 adult reintroduced from storage/tip culture. 12-23-08
Image March of 2009
Although I am not totally certain, there are differences which show up in the growth rate and vigor of adult cultivars. The above is one of the vessels which contain "yellow" (celadine?). It is growing more like the seedling tissue versus the red shell adult offspring which was put into culture.
Again there is a demonstration (third time around good) that moving from a plain agar media to one which has a mix of both gellan gum and agar is good, really good. It promotes shoot growth, and of course bud push, close to the media level. Now here is a tickler... scratch for the ol head of mine. Why would these little guys sit there and off shoot hormones to one another via the media? Because they can.
Adult reintroduced from storage but a few steps ago, the red shell stuff. 12-16-08
These are from one plantlet or tip if you may. Some pups are helping others and if next to others growing more happy. And you know what? They are not unlike their cousins from another species in the P. stenopetala area.
The below images show the subculture of red shell tissue which was harvested off of an adult plant.
Tissue which was on storage media 12-27-07
Same tissue 1-17-08
Top from subculture 2-14-08
Bottom, same date.
Here's that base 3-10-08
This would be the top, same date.
These are all from the original base (right in pic) May 2008.