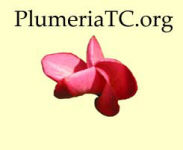 Click images for menus.
All rights reserved 2003 through 2018
A web-spinning mite: (2011-2012)
Plumeria x stenopetala
(Updated 02-11-12)
Image 02-11-12
Image 02-11-12
The above two images show how the mite infested Plumeria x stenopetala (embryo 2 - shown below with a silk covered tip) has recovered from the mites with a treatment regimen of a solution of insecticidal soap sprayed, covering all surfaces, every four days, which all the plumerias that are in the house this winter have had as well. It has been maintained in the same room as the three plants in the below image, but in a location that receives little direct sunlight.
Image 02-11-12
These three plants all were infested with the mites as well, with the P. rubra off to the right being the only one to produce leaves while under direct sunlit conditions. The other two plants are e2 clones. So while it is possible to free these plants of the mites, some species of plumeria appear to respond to the treatment and environmental conditions differently.
Image 01-06-12
The above tip has a sleeve of silk around it, containing many eggs and mites, mostly nymphs. Adults can be found on the green post and plant tape which is a great spot for them to hide from any treatment you are trying to do. Mite generations were sped up using carbaryl.
Image 01-06-12
For contrast a white chin hair was utilized this time. These mites were introduced upon the above and other Plumeria x stenopetala plants, plus a P. rubra, all of which were previously pest free having been maintained indoors since being placed ex vitro. It would appear that from damage the P. rubra incurred (bronzing of upper leaf tissue) that there were probably at least two mite species which came in with the P. obtusa that was placed in the room containing the ex vitro plants. Twospotted spider mites bronze the upper leaves of P. rubra most efficiently. Combine them with the sixspotted web-spinning spider mites (and they will co-habitat together) and the plants defoliate, as previous observations have shown, and together with both the newer tissue being torched (black/nectrotic) and what leaves the plant have falling off, makes the plant very susceptible to further damage.
Image 01-06-12
Nymph (upside down fighting webbing) and eggs upon necrotic petiole of the upper most leaf, yet not fully elongated.
Image 01-07-12
The above image shows discoloration and apical damage upon honeysuckle (red stunted growth, with a berry from a pollinated flower that still made it through). This vine is adjacent to the area where the P. x stenopetala clones were maintained during the summer of 2011 where they picked up not only the sixspotted web-spinning spider mite, but also the inchworm, of which another larva was discovered on 01-07-12 also upon the honeysuckle, although not much feeding damage from the inchworm was evident.
Image 01-07-12
Inchworm larva upon honeysuckle vine.