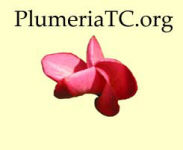 Click images for menus.
All rights reserved 2003 through 2018
A web-spinning mite: (2011)
Images of a host plant for Eotetranychus sexmaculatus: Grapefruit
Image 12-27-11
This image was taken from the top of the canopy and shows leaves which were formed/elongated (late season growth, second push) after treatment with the home-made insecticidal soap, which occurred just after fruit set. Although it did a fairly good job of controlling this year's mite population (and eliminating almost all the fruit on the tree for the year), a second treatment early the fall would have helped. This year is not unique with them at the top of the canopy and is something which is interesting also about these particular mites in that they do appear to go to the top of the canopy, as is being observed in the mite tent and the trap plumeria plant with its upper elongating leaf showing signs of infestation yet leaves emerging simultaneously on a lower branch are yet to be "picked upon". As populations upon the plumeria within the isolation tent increase, that will most likely change.
Image 12-27-11
Still fairly high up in the canopy showing discoloration and necrotic spots. The lighter green areas (mottling) on the leaves is a response to the home-made soap.
Image 12-27-11
A comparison of leaves (yellow with necrotic spots is from upper canopy). The nice green without deformities is how these leaves should look, not yellow with necrotic spots. Although the above leaf with necrotic spots was imaged via microscopy, only debris was noted with no live mites. Both of these leaves elongated after the soap treatment (no mottling).
Image 12-27-11
The above image shows some of the damage caused by the home-made soap which can cause confusion when diagnosing these things. The leaf in the background (half white) is more than likely from the mites and represents the "nutrient deficiency" problem I've been chasing my tail on and these trees are on a regular fertilizer schedule of citrus food, not organic.