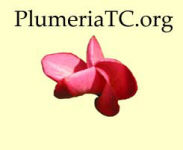 Click images for menus.
All rights reserved 2003 through 2018
A web-spinning mite: (2012)
Confounds
(Updated 03-20-12)
Image 03-20-12
A plant cleaned up? Although showing some signs of deformity, no actual mite sightings have occurred since before the various "confounds" showed up (see below for more information on this). Mite corpses and slight webbing that were visible early upon initial leaves, are no longer visible, apparently cleansed from the leaf and/or stem surfaces.
Image 03-20-12
Another weed seed has sprouted, and will probably join the other ones by being eaten. There are still adult fungal gnats flying around and a small centipede was seen on the date of the image crawling around the potting soil as well.
Image 03-03-12
It would appear that this plant has been cleaned up, and that if there are any mites left, they are having little effect upon elongating tissues. As evidenced by other plumerias housed indoors this winter, the mites do a terrible amount of damage to the tissues even with temperate conditions, but with relative humidity levels between 40 and 50 percent, in contrast to those present in the mite tent which range from 80 to 90 percent. In addition, this is the sole plant which has additional insects and, left to its own devices, has been cleaned up rather nicely, including the decaying and rotting tissues, as those were being taken care of by other insects, see below for more information on that. So, in this case, this experiment has only demonstrated how to capture and utilize nature to organically "clean up a plant" with minimal effort and if it is the intention of a researcher to be able to capture and identify the mites under a microscope, then it would appear that the trap plant must be maintained under lower relative humidity conditions and must be free of predators which may lurk about unseen, yet having great impacts upon population levels.
Image 02-28-12
The dark insect on the underside of the leaf appears to be a fruit fly, most likely Drosophila melanogaster, as these are abundant in the citrus grove. It could also be a large fungal gnat. What effect it is having upon those mites and/or eggs which may remain is uncertain.
The below images demonstrate that not only did this Plumeria rubra catch the sixspotted web-spinning spider mites but the potting soil within the plastic pot has also trapped other arthropods as well. These include centipedes which are probably Scolopocryptops gracilis, a pillbug (Armadillidium vulgare), a small spider yet to be directly seen, springtails (Collembola), and at least a few predatory mites, most likely the western predatory mite (Galendromus occidentalis). In addition to these there are/were fungus gnats (Bradysia sp.), with various dead ones located on the tent floor. This is only a listing of those arthropods which are large enough to be visible to the naked eye from a distance of a couple of feet (mites are easy to spot with a flashlight shining through leaf tissue to highlight them, even at that distance).
Although the mite "tent" was sterile, and the saucer which the pot was placed in was sterile as well, and the exterior of the pot containing the plumeria was cleaned up, including under the lip/rim, contaminates still have emerged. The only thing not disturbed was the soil and plant surfaces. The pillbug and cenitpedes, each presents a question as to how those who would find it otherwise hard to climb a slick plastic surface ended up in the pot. As the conditions presented underneath the grapefruit during the summer of 2011 allowed for little moisture to get to the potting soil, it was contracted from the sides of the pot prior to a thorough hydration after placement into the mite "tent". Since this vessel is sealed, those critters which are in there came with the plant and they have only been spotted within the past week.
What does this mean for the observations and possible extraction of mites for microscopy? As any additional interference on my part is most definitely unwarranted, the findings and data obtained from this otherwise unhealthy and stressed plant which is infested with mites will continue to be presented. But, it should be noted that these additional arthropods which are within the environment have their own small ecosystem going and the remaining adult sixspotted web-spinning spider mites are slowly being picked off, one by one. So, unlike 2005, it is unlikely that more behavioral videos will be obtained of the mites and their web-spinning fun that they do. It should be noted that as of 02-07-12 the small spider which has taken up residence on the side of the saucer has much thicker and complex webbing than these mites do, as they only leave fine strands which, with the correct light angles and refraction, can be easily seen adhered very close to plant surfaces, and sometimes between plant parts. Complex webbing I have only seen when populations are very high and when the mites are without any predation, which then makes it easy to catch them for microscopy.
Image 02-11-12
The small spider finally has shown itself, although I do not have an id yet for it and the creatures imaged below haven't been seen again.
Image 02-06-12
Pillbug
Image 02-06-12
Pillbug
02-06-12
Immature arthropod caught in the small spider's webbing.
Image 02-06-12
Image 02-02-12
The mites are picking on it but have had something holding them back beyond high humidity levels.
Image 02-02-12
Image 02-02-12
Those red arrows point to an immature centipede (on the interior side of the pot and it had moved between images) which had been feasting upon the mites, most probably. In addition to having an unknown predator lurking about (who no longer is?) the temperature and relative humidity meter malfunctioned today too, and I had to bring one in from the lab to replace the one from outside the lab which now is showing a temp of 72 and a RH of 22%. The functioning one is showing 71.7 and RH of 88% which matches the declining curve I was seeing before the other unit malfunctioned. As the plant takes up water to build tissues I am anticipating for RH levels to continue to decrease. Since the chamber is air tight, what's in there is in there, just as in a tissue culture vessel. So far only two species of fungi are in this one, from long distance observation. Both are upon already dead, desiccated, and now rotting tissues.